- Nine structural steel building projects have earned national recognition in the 2015 Innovative Design in Engineering and Architecture with Structural Steel awards program (IDEAS²).
- Conducted annually by the American Institute of Steel Construction (AISC), the IDEAS² awards honor excellence in steel-frame building design. The award is the highest honor bestowed on building projects by the structural steel industry in the U.S.
- Each project was judged on its use of structural steel from both an architectural and structural engineering perspective.
The 9 IDEAS² winners are:
1. DENVER UNION STATION, DENVER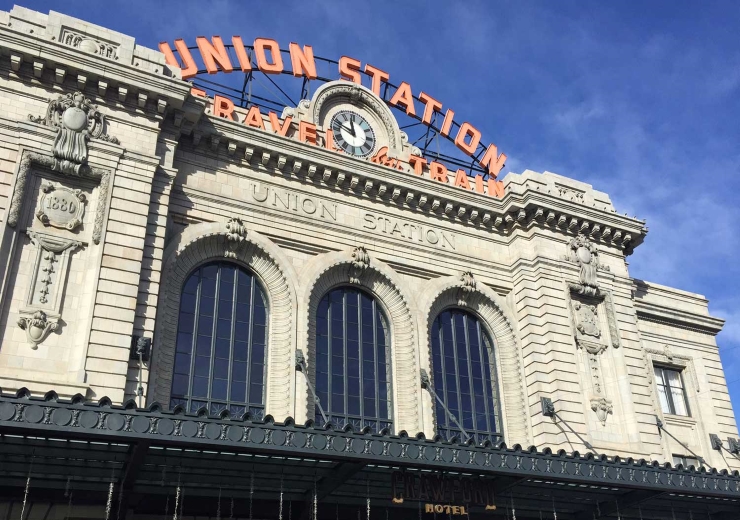 Owner: Denver Union Station Project Authority, Denver
Structural Engineer: Skidmore, Owings & Merrill LLP, New York
General Contractor: Kiewit Building Group, Inc., Englewood, Colo.
Consultant: AECOM, Denver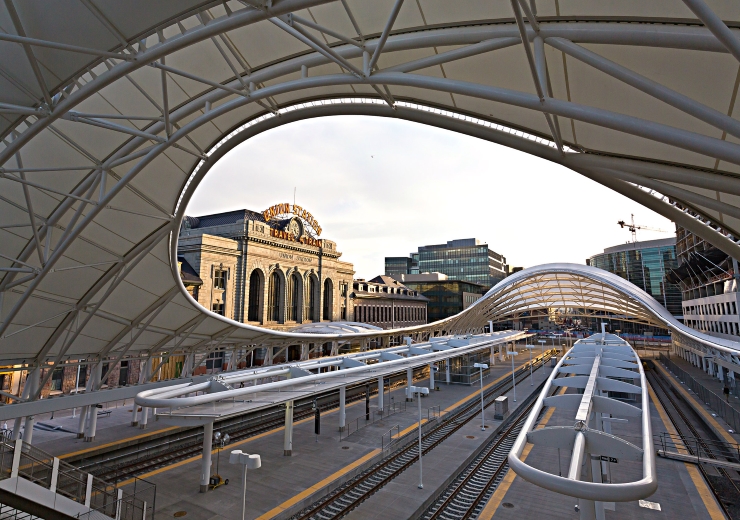 - Denver's historic Union Station is a Beaux Arts landmark located on the edge of the city's central business district.
- SOM structural engineers, working closely with SOM architects, designed the Commuter Rail Train Hall structure, Light Rail (LRT) station platform canopies, several additional steel-and-fabric pavilions, a pedestrian bridge, and a variety of other steel-and fabric canopy structures, all part of the greater Denver Union Station Intermodal Hub.
- This project sets a new standard in the U.S. for delivering on the highest aspirations for sustainability, advance the quality of life for Denver residents, workers, and visitors.
2. CIRCUIT OF THE AMERICAS OBSERVATION TOWER AND AUSTIN 360 AMPHITHEATER, AUSTIN, TEXAS

Owner: Circuit of the Americas, Austin
Structural Engineer: Walter P Moore, Austin
General Contractor: Austin Commercial L.P., Austin, Texas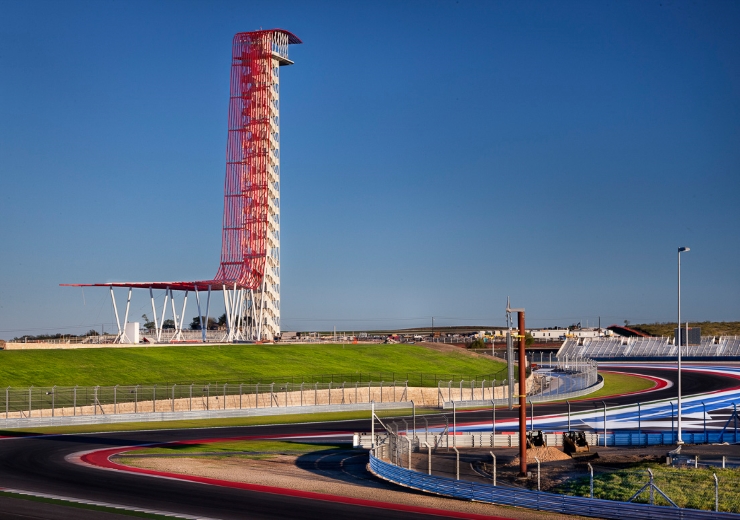 - The Austin360 Amphitheater is the largest outdoor stage in Central Texas, with 6,671 fixed seats and a total capacity of over 14,000 people. At the top of the observation tower, the side faces of the diagrid skeleton extend outward to form a deep cantilever truss that supports a 900-sq-ft viewing deck. The entire balustrade and a portion of the floor is structural laminated glass, allowing more daring visitors to look 230 ft straight down beneath their feet.
- Including all structural steel, floor plating, railings, and connections, the observation tower and stage roof contain approximately 535 tons of steel.
3. LANDSCAPE EVOLUTION OBSERVATORY AT BIOSPHERE 2, ORACLE, ARIZ.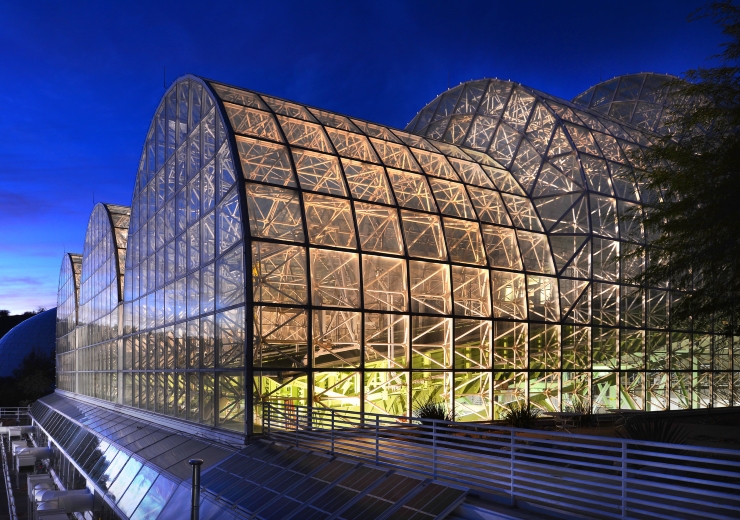 Owner: The Univesity of Arizona-Biosphere 2, Oracle, Ariz.
Structural Engineer: M3 Engineering and Technology, Tucson, Ariz.
General Contractor: Lloyd Construction, Tucson, Ariz.
Consultant: Tractel Ltd., Swingstage Division, Scarborough, Ontari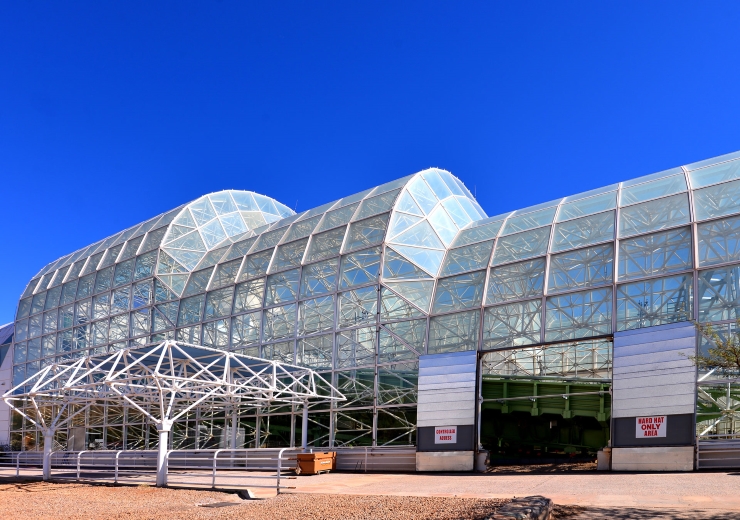 - The Landscape Evolution Observatory (LEO) is the world's largest laboratory experiment in the interdisciplinary Earth sciences. The experiment consists of three artificial landscapes contained within elaborate steel structures and located inside three adjacent bays within the University of Arizona – Biosphere 2.
- A steel-only structure option was selected from three concepts as the most financially and technically feasible option, given the existing building spatial limitations, the structural constraints set by the existing concrete structure that frames the basement, and the need for construction flexibility.
4. HILTON COLUMBUS DOWNTOWN HIGH STREET BRIDGE, COLUMBUS, OHIO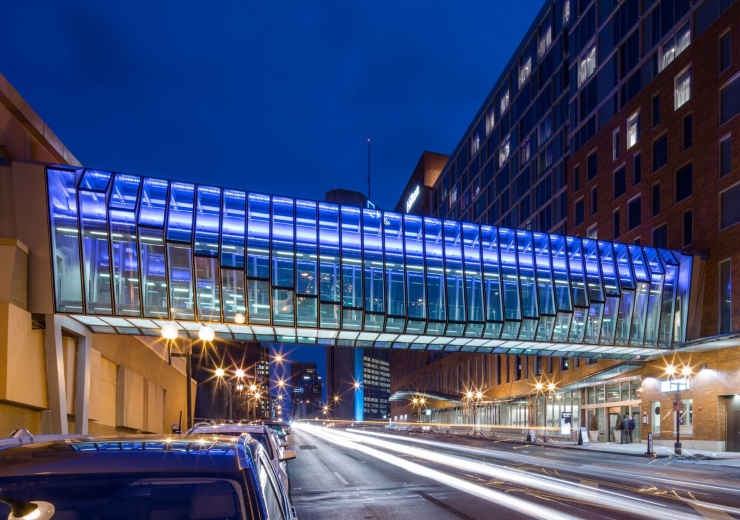 Owner: Franklin County Convention Facilities Authority, Columbus, Ohio
Structural Engineer: Halvorson and Partners, Chicago
General Contractor: Turner/Smoot joint venture, Columbus, Ohio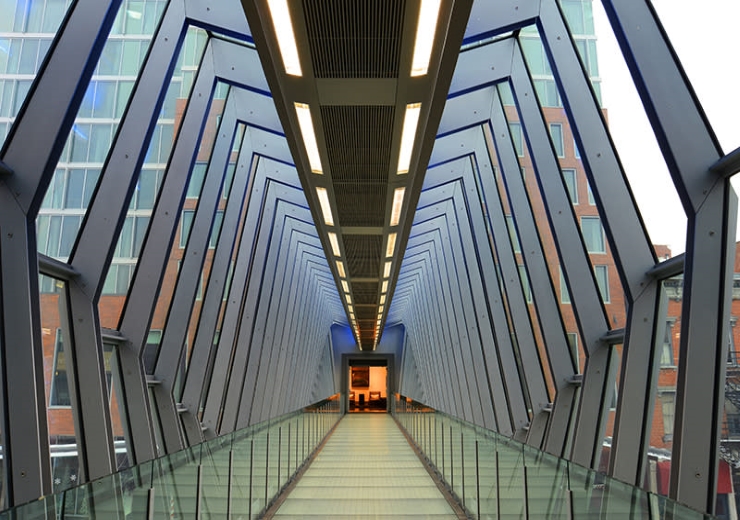 - A creative steel-and-glass design for a new pedestrian bridge in Columbus, OH, earned national recognition for the project team who designed and built it. The unique pedestrian bridge connects the new Hilton Hotel with the adjacent Greater Columbus Convention Center.
- Its mission is to make structural steel the material of choice by being the leader in structural steel-related technical and market-building activities, including: specification and code development, research, education, technical assistance, quality certification, standardization, and market development.
5. FLORIDA POLYTECHNIC UNIVERSITY INNOVATION SCIENCE AND TECHNOLOGY BUILDING, LAKELAND, FL.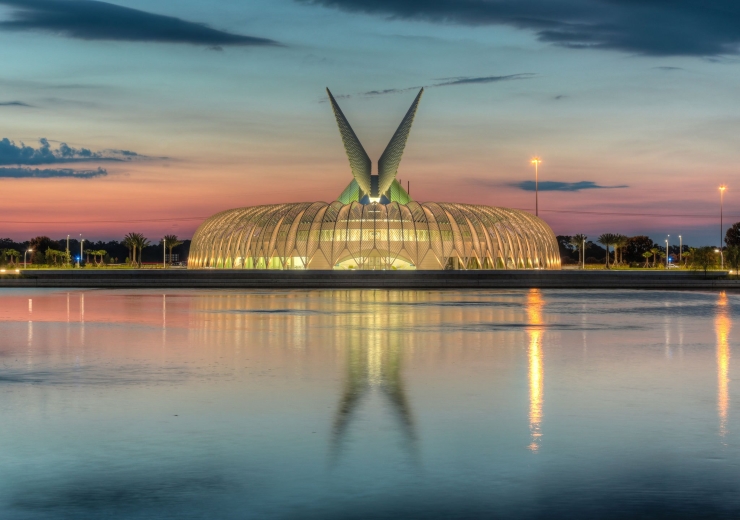 Owner: Florida Polytechnic University, Lakeland, Fla.
Structural Engineer: Thornton Tomasetti, Newark, N.J.
General Contractor: Skanska USA Building, Tampa, Fla.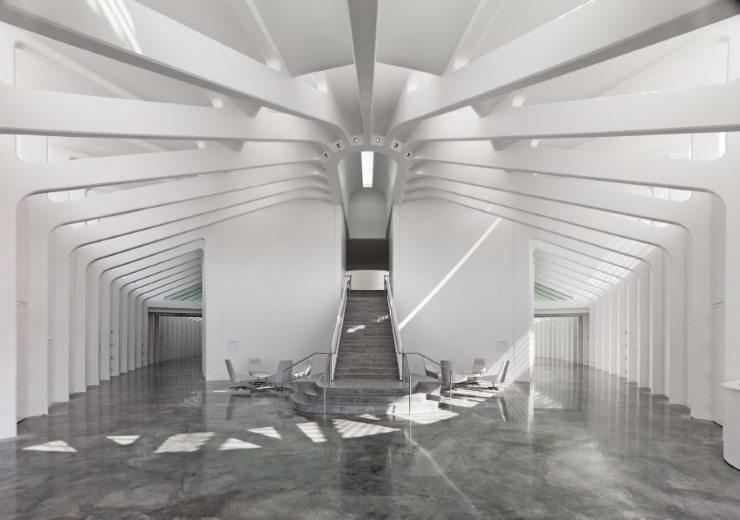 - Florida Polytechnic University, Florida's newest university and only one dedicated to a curriculum of science, technology, engineering and mathematics, started its new campus building program with the 162,000-sq.-ft.

- The structural steel box assemblies were shop fabricated then most were shipped in two pieces due to length and joined in the center at the job site. The lower portion of the plate assemblies are architecturally exposed structural steel (AESS) and exposed to view from the grand hall below. The AESS element has such a smooth finish that most observers mistake this structural steel for another building material.

6. UNIVERSITY OF OREGON HATFIELD-DOWLIN FOOTBALL PERFORMANCE CENTER, EUGENE, ORE.
Owner: University of Oregon/Blue Ribbon Sports, Eugene, Ore.
Structural Engineer: KPFF Consulting Engineers, Portalnd, Ore.
General Contractor: Hoffman Construction Company of Oregon, Portland, Ore.
- The newest campus addition, the privately funded 145,000 sq.-ft Hatfield-Dowlin Football Performance Center. The architecture makes a clear proclamation of strength and innovation.
- Steel played a key part in the major features of the complex, the design team strove to develop the most attractive, efficient, and best performing design possible, which time-and-again meant utilizing the strength and flexibility of steel.
7. POMONA COLLEGE, STUDIO ART HALL, CLAREMONT, CALIF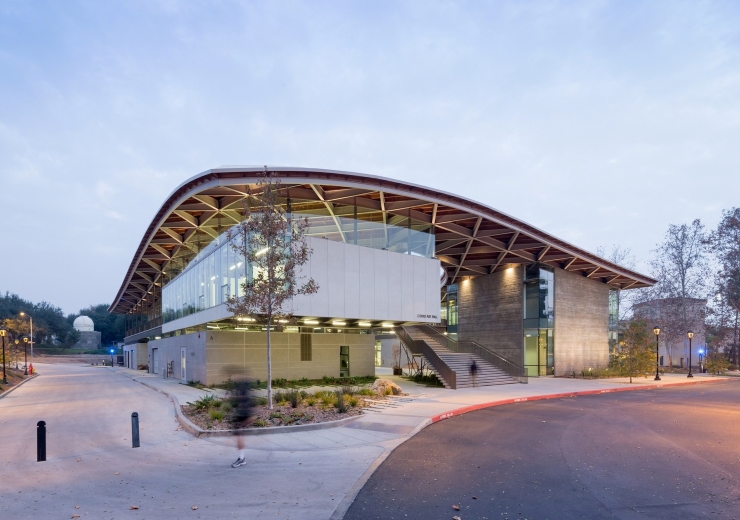 Owner: Pomona College, Facilities and Campus Services, Claremont, Calif.
Structural Engineer: Thornton Tomasetti, Los Angeles
General Contractor: Hamilton Construction, Pomona, Calif.
- The new steel-framed Studio Art Hall at Pomona College, one of the nation's leading liberal arts colleges.
- The art hall is a haven of creativity, artistry and connectivity. Situated near the heart of campus, 35,000-sq.-ft interdisciplinary art center embodies a contemporary way of thinking, creating and influencing art and culture. The layout is designed to inspire interaction, discussion and socialization while moving through the studios and public areas.
8. THE VEGAS HIGH ROLLER, LAS VEGAS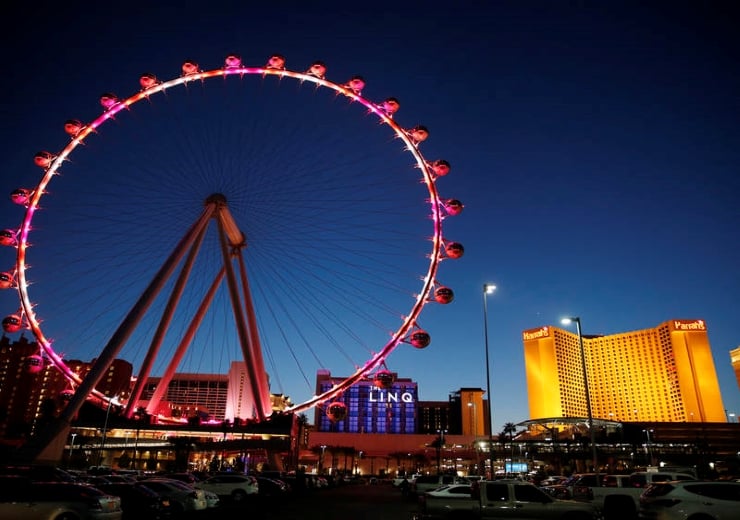 Owner: Caesars Entertainment Corp., Las Vegas
Structural Engineer: Arup, San Francisco
General Contractor: W.A. Richardson Builders, LLC, Las Vegas

- The High Roller truly takes advantage of steel's unique properties and versatility. The rim tube is rolled from structural steel plate; the locked-coil cables are strong and slender; the hub and spindle have forged steel ends welded to structural steel mid-sections; the bearings are high-performance steel subjected to high contact stresses for their 50-year design life and the anchor bolts to the foundations provide ductility in case of a larger than the Maximum Credible Earthquake.
9. ANAHEIM REGIONAL TRANSPORTATION INTERMODAL CENTER, ANAHEIM, CALIF.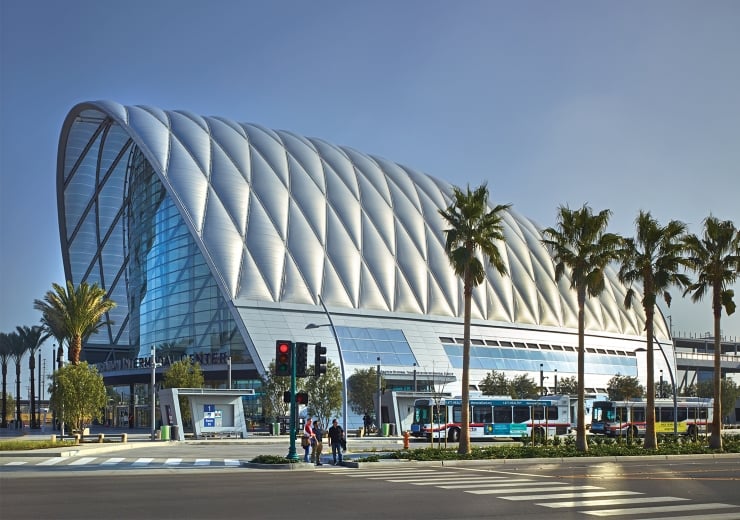 Owner: City of Anaheim Public Works, Anaheim, Calif.
Structural Engineer: Thornton Tomasetti, Los Angeles
General Contractor: Clark Construction Group, Irvine, Calif.

- The Anaheim Regional Transportation Intermodal Center (ARTIC) in Anaheim, Calif., is as beautiful as it is functional. A hub for rail, bus, auto and bike travel, ARTIC is also ready for high-speed trains and street cars, the region's next-generation transportation systems. The program includes a 68,000-sq.-ft terminal building beneath a soaring exposed steel structure.
>See more: QH Plus Structural Steel Projects