Landmark 81 Tower in the Vinhome Central Park complex has become the tallest tower in Vietnam and one of the 10 tallest buildings in the world. Inspired by the traditional bundle of bamboo, with a height of 461 meters, after completion, the Landmark 81 will become the eighth tallest building in the world, as well as the symbol of the peak mark the prosperity and development of Vietnam in the future.
For the construction of super-high-rise buildings such as the Landmark 81, the calculation of bearing structure is the top priority: wind and earthquake loads are the main factors dominating almost all external architectural shapes and the type of structure used for the building. In order to optimize the structural bearing system, most consultants have chosen the following method: The core system located in the central, combining the superstructure that surrounds the core system and hard floor.
Landmark 81 used universal comlumns to protect against wind and vibration, machinied by QH Plus. All Landmark's universal columns are processed at QH Plus factory in Nhon Trach - Dong Nai; the components went through the process of strict quality inspection prior to commissioning.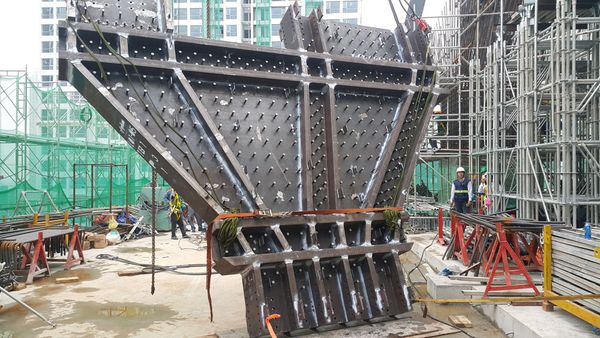 The steel core was delivered to Landmark 81
The steel core was positioned before pouring the concrete
With the strength in production capacity with modern machinery, advanced design and management softwares, along with the production process to ensure quality standard, QH Plus is currently the unit of processing and supplying steel structures, prestressed steel buildings selected by many contractors and investors; typically Vingroup.
Besides supplying steel core for Landmark 81 tower, QH Plus also processing many structural steel work of Vinhome Central Park complex such as pedestrian bridge, marina,… supply accessories, turning lace, aluminum glass,...
This huge project is not only the pride of the owner - Vingroup, but also the pride of the construction unit, including QH Plus Corporation.